Work At Home Mom Center Is Here For You!
Whether you're a freelancer, an entrepreneur or one who dreams of someday working from home, we've got you covered. Here is where you can learn about a variety of options which do not require a traditional workspace and where you can draw from the wisdom of others who are work from home professionals. From our article archives to our new and improved blog, we've got answers, advice and more in store for you.
Too Good to Be True? Not At All!
If you've been confused by claims that all work at home jobs are scams, please rest assured that they are not. Our authors and contributors all earn a living working from home and you can too. For a little enlightenment on the legitimacy of telecommuting, please read Work at Home Jobs for Moms DO Exist!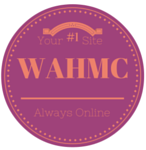 Ground Zero Tips For Work at Home Success:
1. Have a dedicated work space. Keep a certain area of your home dedicated to your work. A room that can be converted into a home office is ideal, but if you do not have the additional space simply establish a corner of a room with a desk and chair where you can conduct business.
2.  Be organized. Different organization methods will apply to different work at home jobs for moms. You will want to develop a system that works well for the type of job you are doing. Use folders, notebooks and other means to organize your material.
3. Be discreet. If you have an employer, keep their information confidential. Use a paper shredder for private documents.
4. Avoid distractions. Yes it is great to be home with the kids, but you have to make time to work when you are free of noise and other distractions that will keep you from being fully devoted to work.
5. Set goals. With certain work at home jobs for moms, such as call center jobs, you will have to work specific hours and times. But if you are working in other capacities, such as a virtual assistant or freelance writer, you may be able to set your own hours. Map out a brief to do task for each day to make sure you get your tasks accomplished.
6. Invest in good equipment. Quality equipment, such as a reliable phone, fax machine and other office items will save you time and money in the long run. Make sure you stay well stocked so that you don't run out of ink, paper or other supplies necessary to your work at home mom job.
7. Take a break. Make sure you give yourself time to eat lunch, stretch and enjoy life a little. Working at home can be time consuming and can turn into a 24/7 career unless you make time for yourself. If you do a lot of computer work, we recommend using the Pomodoro Technique. Adjust your timer to suit your needs (and attention span) and try a few quick exercises while you break.  
Ready to dive into the whole work at home experience? Subscribe to our newsletter and tune into our blog for regular advice, suggestions, news and information.